Please see below for a list of important dates and meetings.
May 10: Board Meeting, 7 p.m.
May 24: Board Meeting, 7 p.m.
May 30: Memorial Day (No School)
June 7: Last Day of School for Students; 3rd Trimester Ends and Report Card Distribution
June 14: Board Meeting, 7 p.m.
Welcome to District 97, Dr. Shah!
We are thrilled to welcome our new superintendent, Dr. Ushma Shah, to District 97 this week! Dr. Shah is kicking off her tenure by visiting schools, celebrating eighth-grade graduates, and connecting with students, staff, and community members.

As the 2021-22 school year comes to a close, we know that this is just the beginning for our new leader. Click here to learn more about Dr. Shah and her journey to District 97 >
Update on COVID-19 Mitigations and May 13 Board Meeting

On Friday, May 13, the District 97 Board of Education held an emergency meeting to discuss public orders that were published this week by the local health department and whether additional mitigations are necessary for our schools given the increase in COVID-19 cases in our community. Click here to view the meeting recording >>
Based on the current level of community transmission and the number of cases among our students and staff, the board voted to adopt the following mitigations through the end of the school year, effectively immediately:
Masks will be required for any portion of field trips spent indoors including on buses, if children are transported to field trips via bus.



Masks will be required, unless appropriate school personnel determine that unmasking is necessary, for all attendees and participants at indoor performances and other events that include individuals who are not students and staff, such as music and end-of-year performances and graduation ceremonies.



Schools will attempt to move indoor activities outdoors as much as reasonably possible.
Registration Opens Monday, May 2!
Online registration for the 2022-23 school year in District 97 will officially launch for all students on Monday, May 2!

This year, the registration window will be open May 2 through July 1 for ALL students—returning, new and kindergarten.

Remember that the "ABCs" of registration are "D-E-F."
D - Documents: All required documents must be scanned and ready to upload before starting registration.
E - Early: Registration is a detailed process and we ask that families register early!
F - Finish: Registration is finished once you receive a confirmation email from the district.
CLICK HERE for a brief video that outlines the District 97 registration process!
Detailed information about the registration process is available on the district website at https://www.op97.org/hr/student-registration.
Student Technology Non-Collection
As we prepare for the end of the school year, there are few updates from the District 97 Technology Department that I want to share.
First, similar to last year we will not be collecting devices from students who are currently in kindergarten through seventh grade. This decision was made to ensure access for all students who are participating in the summer school sessions being offered by the district and other partner organizations, as well as to ensure continuity of access for all District 97 students and families over the summer. Additionally, given the current increase in COVID-19 cases, we want to avoid holding any large-scale device collections at this time.
For the current fifth graders (incoming sixth graders) who will be transitioning to Chromebooks, we will be working with both Brooks and Julian to schedule a device swap over the summer. During the device swap, we will collect current devices and distribute Chromebooks to incoming sixth graders.
For all other elementary students, we will handle any other device swaps and distribution during the first few days of the 2022-2023 school year. More details will be shared about this process as we get closer to the start of the year.
The technology department will continue to service devices through a specified schedule throughout the summer. There will be more details shared on this in the coming weeks. If you and your family move out of the district, please email helpdesk@op97.org to schedule a time to drop off your device at the district office prior to leaving. It will be very important to get these devices as soon as possible so that we can have them cleaned and prepped for the students in the fall.
Any students who are not returning to District 97 in the fall can return their devices to their school office on June 7, 2022.
Thank you for reviewing this information. We will continue to provide you updates throughout the coming weeks and months. Have a safe, restful summer!
Hot Lunch Menus Now Available
Beginning Monday, April 11, all District 97 schools will resume serving hot lunch. The new menus and nutritional information are linked below.
Breakfast Menu (Brooks, Irving, Julian, Lincoln, Longfellow)
Breakfast Menu (Beye, Hatch, Holmes, Mann, Whittier)
Hot Lunch Menu (3-Week Cycle)
Hot Breakfast/Lunch Nutritional Information
Lunch Reminders
Meals brought from home must be nut-free.
Lunch will continue to be served at no cost to families.
We're Hiring!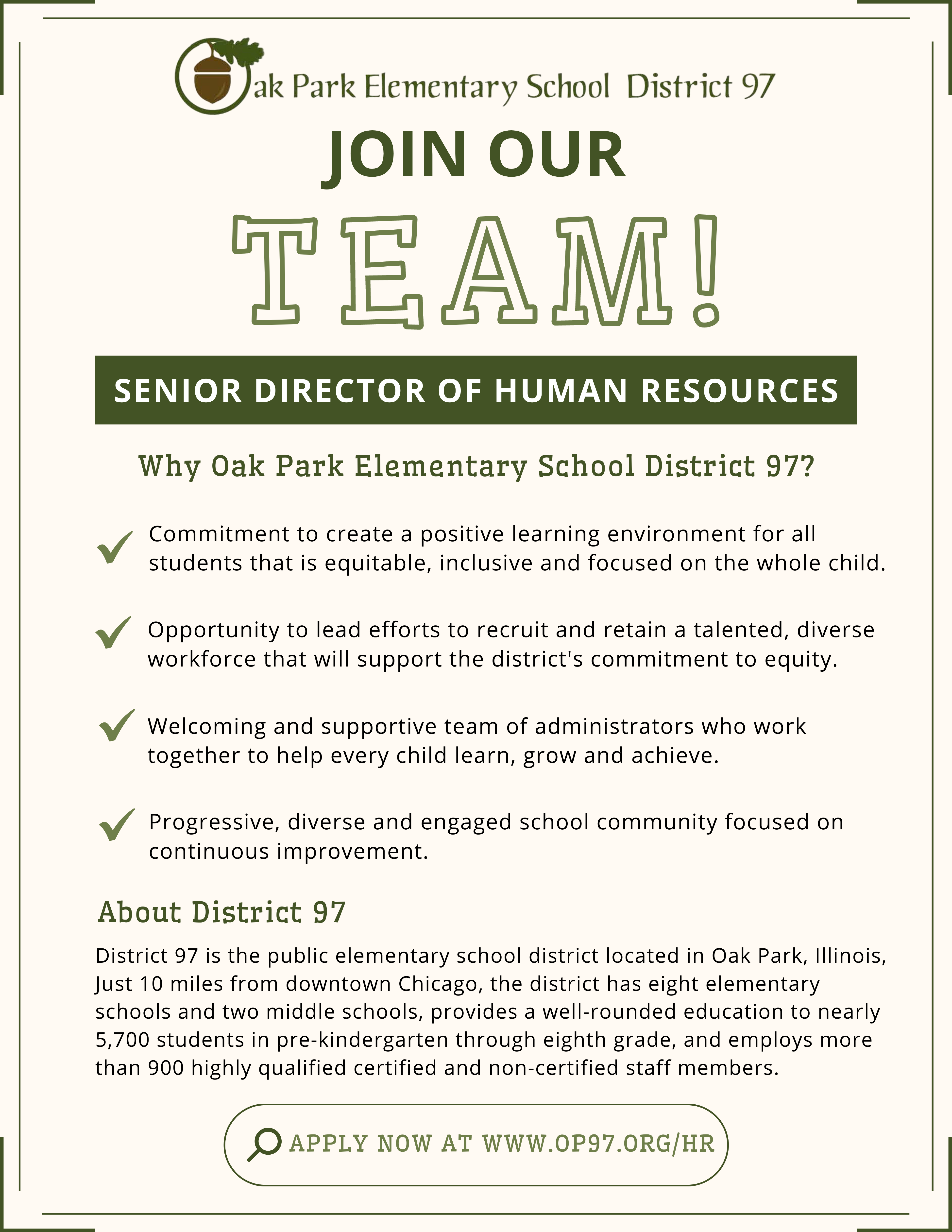 Oak Park Elementary District 97 is seeking a Senior Director of Human Resources effective July 1, 2022. The application deadline for this position is May 6, 2022.
The Senior Director of Human Resources will have the opportunity to lead efforts to recruit and retain a talented, diverse workforce that will support the district's commitment to equity.
CLICK HERE to view the full job description and apply >


Mask Reminders

Masks continue to be REQUIRED in the following areas:
Nurses' offices
SHIELD collection sites
Masks are STRONGLY RECOMMENDED for:
Individuals are returning to school after testing positive for COVID-19 (days 6-10)
Asymptomatic close contacts who remain in school (days 0-10)
Classrooms that are in outbreak status
We appreciate the partnership of our staff, students and families in keeping our schools safe.
Celebrating Juneteenth
District 97 staff and families are invited to join in the Village of Oak Park's celebration of Juneteenth. The 2022 festivities will include a special flag-raising ceremony, and a Juneteenth parade and community picnic organized by community members and co-sponsored by the Village.
Mark your calendars to join in the celebration! Details below.
Juneteenth Flag-Raising Ceremony - June 11, 2022
Oak Park's Juneteenth festivities begin about a week prior to the holiday with a flag-raising ceremony from noon to 1:30 p.m. on Saturday, June 11, in the courtyard at Village Hall, 123 Madison St. The ceremony will include speeches, live music and a dance performance. The ceremony is free and open to the public.
Juneteenth Parade and Community Picnic - June 19, 2022
Oak Park's Juneteenth celebration culminates with a parade and community picnic on Sunday, June 19. The parade steps off at 11 a.m. from Longfellow Park near Jackson Boulevard and will march north on Ridgeland Avenue to Augusta Street. Community groups and organizations are invited to participate in the parade. Following the parade, a community picnic will be held throughout the afternoon at Taylor Park, 400 Division St.
CLICK HERE to register as a parade participant >
Update on 40th Annual District 97 Multicultural Parade and Festival
Over the past four decades, the District 97 Multicultural Parade and Festival has grown into one of the largest and most anticipated celebrations of our community's diversity and cultural traditions. The event brings together thousands of community members and is the culmination of months of planning by organizers and participants.
Unfortunately, the festival has been on hold the past two years as we prioritized the health and safety of our community during the COVID-19 pandemic. While we hoped to bring the event back this spring, there was simply too much uncertainty about whether we would be able to safely hold a gathering of this size at the time planning was set to begin. Considering the significance of the festival's 40th anniversary, we ultimately decided to postpone the event again to 2023 to provide enough time for planning and maximizing community involvement.
While we are disappointed that we are not holding the Multicultural Parade and Festival this year, we are excited to finally celebrate its 40th anniversary on Saturday, May 6, 2023. Planning will likely begin later this fall.
We look forward to working with our schools and community partners to celebrate the incredible diversity of Oak Park!
Early Childhood Blended Classrooms

District 97 is currently accepting applications for the early childhood blended classrooms at Whittier Elementary School for the 2022-23 school year. We will have a limited number of spaces available.

We are seeking students who:
Are non-IEP students who will be between the ages of 3 and 4 years by Sept. 1, 2022;
Demonstrate age-appropriate language and social skills;
Are Oak Park residents;
Are not enrolled in a preschool program.
Stay Home When Sick!
Staying home when sick is essential to keep COVID-19 infections out of D97 schools and prevent spread to others. As a reminder, symptoms that should be monitored daily by staff, families and students are listed below. Thank you for doing your part to keep our school community safe. We are in this together!

Vaccinations and Boosters
Health officials say that getting a COVID-19 vaccine and booster is the best way to prevent contracting the virus. Getting vaccinated also may protect others around you, particularly people at increased risk for severe illness from COVID-19.
Comments
Sponsors
Your logo could be here. Contact us to be a sponsor today.